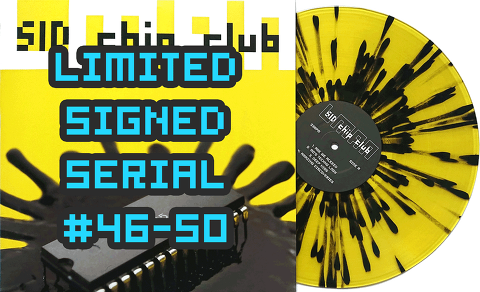 Vinyl "SID Chip Club" LIMITED to 50 + SIGNED - last one!
First issue, the extremely rare last remaining serials from the kickstarter campaign, #46 - #50, are now up for sale.
#46 - sold
#47 - sold
#48 - sold
#49 - sold
#50 - sold
Contains:
Signed Vinyl record, special pressing (~160g, yellow + black splatter)
Digital download (MP3 mastered and unmastered, FLAC, many remixes, and D64 music disk)
Please note that we'll peel off a corner of the shrink wrap for signing it.
Concurring orders for the same serial will be resolved first come, first served.
Vinyl Tracklist:
A1 Age We Aceeed
A2 Mo's Techno Logy
A3 Deep Kiss
A4 Amazing Discoveries
B1 La Mer
B2 Hazy Shack
B3 Venus Falling
B4 Microgroove
Item No: 54296
Unfortunately, this item is sold out.