Pool Beauty feat. Natascha Klein
I'm releasing this drawing today, on our 11th wedding anniversary. <3
Colored pencil drawing of my beautiful wife. <3
Faber-Castell Polychromos pencils
A3 (12 x 17") sized Hahnemühle Fineart Sketch Paper
Dear Natascha,
thank you for your undying love and support, for being my muse and my critic, my drive and my friend.
Forever yours
Markus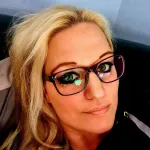 This wonderful portrait brought tears to my eyes!!
I'm speechless about the amount of time, love and detail you put into this drawing! ❤ No words suffice to express what this picture means to me. - Natascha Klein
She's my muse, my love, my manager, and an all around wonderful person. Check out Natascha's stunning photography - Colorful, powerful, beautiful!
---
awesome detail and awesome colours and reflections. as always...
---
Thanks for your kind feedback Marc!
---