Natascha's Play Of Colours
Colored pencil drawing
Faber-Castell Polychromos pencils
A4 (8 x 12") sized Strathmore Colored Pencil Paper
Dear friends,
It's been 4 years since my last drawing was published. Today I want to shed light on the role my wife Natascha had during my most active years as portrait artist between 2012-2015, and how important that part was. Around 2010 we were browsing the art section in a book shop, when I said I should draw a portrait, which I hadn't done for a long time. She loved the idea too, and soon I started with some graphite pencil works. I moved on to black and white colored pencils, and finally to full color works. In 2012, the portraits had gotten quite good, and she encouraged me to share my pictures with the world at facebook..
During the following 3 years, she helped me build my small artwork enterprise. She managed, and still manages my facebook page, made tons of contacts, got in touch with the press and generally gave me confidence in my work. For our exhibitions, she organised, spread flyers, made promo online and offline, never asking for anything in return.
Natascha, what I can give in return is a heartfelt THANK YOU! My eternal love and gratitude is yours. <3
- Markus
- German translation -
Liebe Freunde,
vier Jahre sind seit meiner letzten Zeichnung vergangen. Heute möchte ich beleuchten, welche Rolle meine Frau Natascha während meinen aktivsten Jahren als Portraitkünstler zwischen 2012 und 2015 eingenommen hat, und wie wichtig dieser Teil gewesen ist. Circa 2010 schauten wir uns in der Kunstabteilung eines Buchladens um, als ich sagte: Ich sollte mal wieder ein Portrait zeichnen, was ich seit langem nicht mehr gemacht hatte. Sie fand die Idee toll, und bald begann ich mit einigen Graphit-Bleistift Arbeiten. Danach ging es weiter mit schwarzen und weißen Buntstiften, und schließlich mit Vollfarb-Bildern. Gegen 2012 wurden die Werke richtig gut, und Natascha ermutigte mich, meine Bilder auf Facebook mit der Welt zu teilen.
In den folgenden 3 Jahren half sie mir, mein kleines Kunstunternehmen aufzubauen. Sie managte damals wie heute meine Facebook-Page, stellte eine Menge Verbindungen her, kontaktierte die Presse und stärkte bei mir stets das Vertrauen in mein Können. Für unsere Ausstellungen hat sie alles organisiert, Flyer verteilt, Online und Offline Werbung gemacht, und hat im Gegenzug nie etwas verlangt.
Natascha, was ich dir aber zurückgeben kann, ist ein DANKESCHÖN von ganzem Herzen! Meine ewige Liebe und Dankbarkeit gehört Dir. <3
- Markus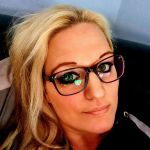 Natascha Klein
She's my muse, my love, my manager, and an all around wonderful person. Check out Natascha's stunning photography - Colorful, powerful, beautiful!